DWARKA EWAY TO FLAG OFF BY MARCH 2018

Dwarka Expressway, also called Northern Peripheral Road,is likely to become operational by March 2018, with the government finally acquiring 24 hectares in Dwarka, Delhi,which is necessary to complete the construction on the Dwarka side of the expressway.
The Union government published the notification of the acquisition of 24 hectares in Dwarka, in Delhi, the land acquired to complete work on Dwarka Expressway, in the official gazette.
Work on the 24km-long, 8-laned expressway was held up since 2012 for want of this patch of land in Dwarka, and the consequent relocation of some houses here, which was obstructing the alignment of the road.
This is good news for real estate firms that invested over Rs 60,000 crore in residential and commercial projects along this 150-metre-wide roadway, as customers were reluctant to buy housing units here due to the lack of proper connectivity.
The completion of the expressway is likely to revive the prospects of these investments. More than 20,000 apartments and hundreds of thousands square feet of commercial property are ready for possession. But buyers are either delaying taking possession of the properties or are disinclined to occupy them even after taking possession.
Getamber Anand, chairman of the Confederation of Real Estate Developers' Associations of India (Credai) and CMD of ATS Infrastructure, said the developers' community was ready to contribute whatever was required to complete the expressway and was confident that the expressway would flag off by March 2018.
Navin Raheja, CMD of the Raheja Group, expressed similar sentiments, reiterating that the completion of Dwarka Expressway would help revive real estate activity in the whole region.
There were two troublesome stretches holding up the roadway project. Acquisition of a 900-metre patch on the Delhi side of the expressway in Dwarka and a 1km stretch in New Palam Vihar in Haryana was delayed due to some houses within the required land. The government offered the owners alternative plots in the developed localities of Gurgaon like Sectors 37D and
On November 22, the high court also urged that the owners of those houses be relocated in New Palam Vihar in line with the direction of the Supreme Court. The relocation of these owners is likely to be completed soon, Getamber Anand said.
As delay in the land acquisition affected the completion of the road, the Union government transferred the expressway to the National Highways Authority of India (NHAI) in 2016, and renamed the expressway as National Highway 8A. It is easier to acquire land for the construction of National Highways than for any other purpose, owing to suitable legislation to aid this process.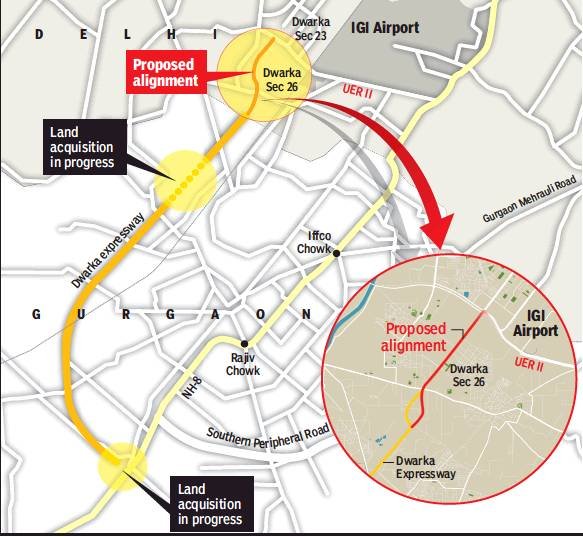 source: timesgroup