New projects with over 3 lakh affordable homes await nod

GURUGRAM: The affordable housing sector in Gurugram, one of India's largest real estate markets, is expected to see a significant boost as 74 new licence approvals are pending with the department of town and country planning (DTCP). This is apart from the 55 affordable housing projects that are coming up on around 310 acres in Gurugram and Sohna.
The developers, seeking licence for the new affordable housing projects, intend to construct around three lakh units on 380 acres of land in Gurugram. In Sohna, six new licences are likely to be granted for construction of affordable housing projects on around 30 acres of land, officials said.
In February, DTCP invited fresh applications for licences to build over 3 lakh affordable housing units.
Haryana amended its Affordable Housing Policy 2013 in October 2017, to extend an existing cap of 300 acre in Gurugram district to 1,935 acre. Based on the earlier cap, DTCP had issued affordable housing licences over 300 acres, on which around 46,000 units are at different stages of completion, in sectors along Northern Peripheral Road (NPR), also known as Dwarka Expressway, and Southern Peripheral Road (SPR).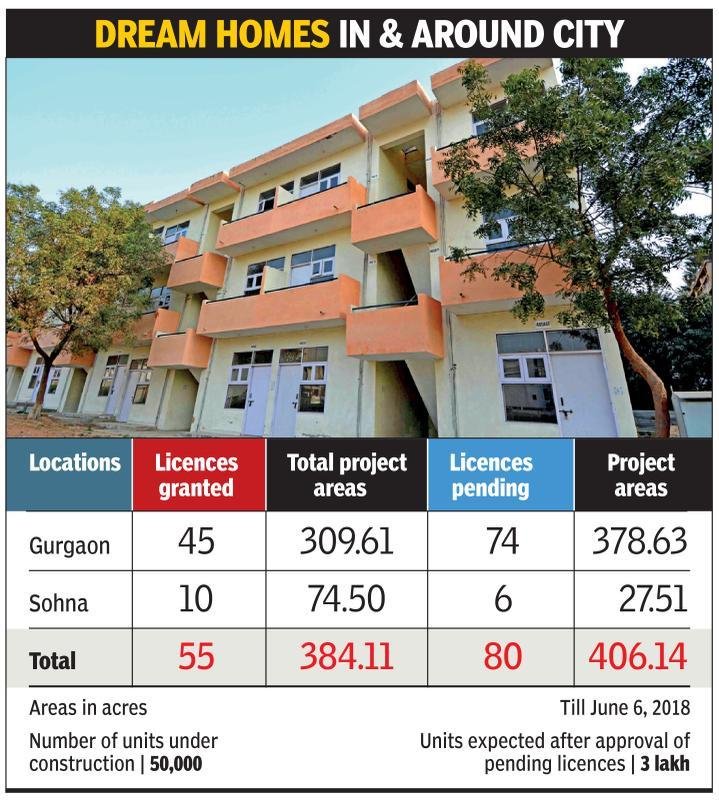 Developers believe there is a demand for affordable housing and an increase in supply will attract buyers, reviving the real estate sector.
Pradeep Agarwal, chairman of Signature Global, which has seven affordable housing projects in Gurugram, said "the government is working on a multi-pronged strategy to help boost affordable housing". "As part of this strategy, the government is working to help developers contain the cost of affordable homes by reducing the approval time for projects," he added.
Surender Singh, director of GLS group which intends to offer possession to 2,000 flat owners in the next two years, said that quick licence approvals would increase the supply of affordable housing and competition among developers. "It will benefit buyers and offer more choice to them," he added.
Singh said due to high cost of residential units in Gurugram, a large section of salaried middle-class are unable to own a house.
"Affordable housing gives option to them," he said, adding that the state government should speed up infrastructure development in new sectors.
Navin Raheja of Raheja developers also said that there is an increased demand for affordable houses, which is in a way reviving the real estate market. Considering the maximum shortage of urban housing is in the low-cost segment, the government has rightly put the focus on affordable housing.
Earlier in Gurugram, there was a cap of 10 acres in a sector and a total of 300 acres. With the new amendment, the department of town and country planning (DTCP) has removed the 300-acre cap.
The department has increased the limit of affordable housing in a sector to 15 acres from 10 acre and raised the total area under affordable housing in Gurugram by around 500 acres.
source: timesofindia