Now, Affordable Housing is Driving Home Loan Growth
Govt Sops Boost Sales Of Flats Below Rs 30 Lakh
After years of selling pricey luxury homes that boasted amenities like signature golf courses and jacuzzis, builders finally seem to be moving toward modest apartments to suit middle-class pockets. A clear indicator of this is the sharp uptick in home loans driven by sales of houses costing below Rs 30 lakh.The cue for builders to change tack came from this year's Budget, which offered tempting tax and interest concessions for the affordab le housing segment.
This year, almost half of all bank credit comprised loans to housing, given the almost non-existent corporate loan demand. According to HDFC chairman Deepak Parekh, the corporation's January loan applications rose 21% over December. February applications were another 24% higher, and March was 44% more than the previous month.
"What is driving this growth is not high-value property but affordable homes, considering that the corporation's average loan size is Rs 25.6 lakh. This is the first time in several quarters that HDFC's average loan size has dropped from Rs 26 lakh," he said.
Property experts said Ahmedabad was the largest contributor of such homes (costing less than Rs 30 lakh), followed by Pune (up to Rs 50 lakh) and areas in the Mumbai Metropolitan Region like Badlapur, Ambernath, Vasai-Virar, Dombivli, Kalyan, Panvel, Ulwe and Taloja.
Housing finance providers are now expecting the affordable home segment to grow at 25% given the subsidy under the Pradhan Mantri Awas Yojana (PMAY). The scheme, available until December 2017, provides 4% subsidy on home loans of up to Rs 9 lakh for those with an income of up to Rs 12 lakh per year, and 3% subsidy on loans of up to Rs 12 lakh for those earning up to Rs 18 lakhper year.
Pankaj Kapoor, MD of Liases Foras, a real estate research firm, said on a quarteron-quarter basis, maximum sales growth (31%) was reported in the affordable segment (properties priced below Rs 25 lakh), while the ultraluxury segment witnessed a 4% decline in sales. The October to December 2016 period saw a slump following demonetisation, but demand between January and March 2017 was healthy .
Developer Niranjan Hiranandani said sales at his Thane project for flats below 600 sq ft had been good. "There will be a further surge when more projects start hitting the market and people start getting the tax benefits," he said.
Mortgage company Indiabulls Housing told investors that for a borrower seeking Rs 24 lakh, the effective rate he or she will pay works out to only 0.42% after factoring all tax breaks and subsidies.
"Effective home loan rate in the mid-income affordable housing segment is at near-zero levels. With rental yields at 3.2%, home ownership is very affordable and much cheaper than renting a house," a company official said.
According to Subhash Chennuri, senior consultant with consulting firm FSG, more finance is being made available for housing units which are as low or even below Rs 12 lakh.
The PMAY scheme comes on the back of the Union budget proposals. Besides, developers who build affordable homes are exempted from paying taxes on their profits for five years starting 2016 instead of three years.These are for 300 sq ft homes in the four metro cities and 600 sq ft in non-metro areas.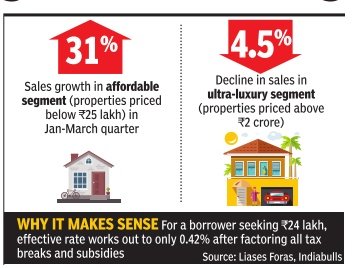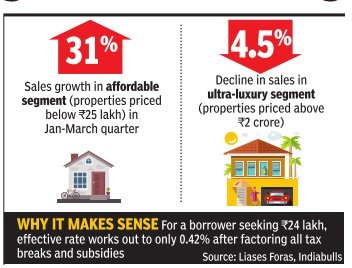 source: TOI