Developers Anticipate Interest Rates, Stagnant Prices to Push Housing Sales in 2021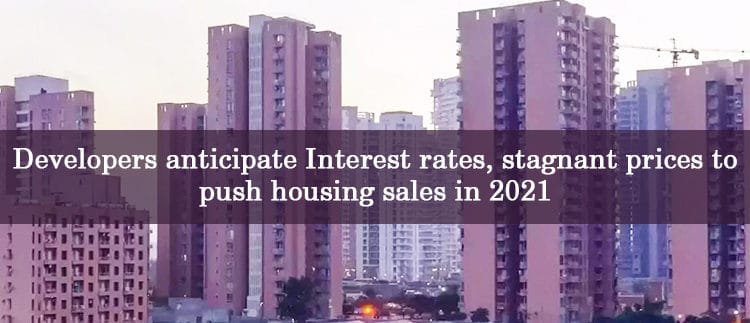 The real estate developers are of the opinion that the reverse migration has triggered the emergence of demand for homes in tier 2/3 cities that too bigger ones outfitting green complex with healthcare facilities, constitute the positive news from 2020.
Developers said that the extension of passive demand continued from last quarter of 2019 to 2020 along with the COVID-19 pandemic induced lockdown in March, the real estate sector went from bad to worse.
As per the words of Mohit Goel, CEO, Omaxe Ltd, "The migration of labours and disruption in supply of raw materials saw a stoppage in construction activities. On the back of government stimulus and RBI's liquidity measures, there was some uptick in demand post the partial opening of the economy,"
Real estate developers opine that the affordable segment will continue to pull demand on the backdrop of low interest rates.
As said by Pradeep Aggarwal, Co-Founder & Chairman, Signature Global, "The market for affordable housing is robust, and in the coming months, there will be more movement. People have realized the importance of owning a home, and this feeling is going to persist. We are coming up with multiple projects, and the response that we are getting is an indication that the affordable housing segment will not face any problem,".
If you are finding affordable home in Gurgaon, then you can choose from some of the best affordable flats in Gurgaon. There are ample of Affordable home in Gurgaon options to choose from leading residential development projects like Signature global, Mahira homes95, GLS South Avenue, Signature Golf Greens 79, Pyramid Altia, MRG World Ultimus, Pyramid Elite sector 86, Supertech the valley etc. To give further boost to affordable housing in Gurgaon, Haryana Affordable Housing Policy 2013 stikes fine balance, on one hand it gives incentives to builders and at the same time has put in proper checks to ensure timely delivery of projects. Going by the recent amendments of Haryana Affordable Housing Policy 2013, the maximum area limit of project under affordable housing is increased from 10 acres to 30 acres. The limit for minimum area for setting up affordable group housing colony has reduced to 4 acres from 5 acres. Also, as per the amendment, the commercial area has been increased from 4% to 8% of Net Planned Area.