Draw Results Of Supertech Basera Sector 79 Gurgaon

This Is to inform you that the draw of flats In Basera residential apartments, Sector 79, Gurgaon, Haryana to be developed by RevItal Reality Pvt. Ltd. was held on Friday, 4th September, 2015 at 9 am In Epicentre, Apparel house, Sec. 44, Gurgaon in the presence of government officials. All the applicants were invited to attend the draw of flats.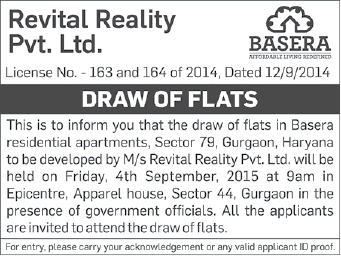 Stay Tuned For Results..