BOOKING CLOSED
Rs. 16 .38 Lacs - 1BHK Apartment, 2BHK Apartment, 3BHK Apartment
Maxworth Aashray Overview:
The Government of Haryana introduced an Affordable Housing Policy in 2013 with the objective of providing most affordable houses. These apartments meet the realistic demand for a most sought-after category of budget houses with all basic amenities for modern community living.
Maxworth Infrastructures Pvt. Ltd is real estate company performing silently since the year 2010.The first group housing in Sector 15-II Gurugram (PREMIER URBAN)consisting of 168 apartments is already delivered and the second project in Sector 10A Gurugram (CITY RESIDENCES) is getting ready for delivery by September 2017. Our projects display our performance and a happy family of our most satisfied customers.
Maxworth in continuity with its objective of building values in real estate is developing "AASHRAY" an Affordable Group Housing Project in Sector-89, Gurugram, located on Main Pataudi Road (State Highway) just 2 km from
Dwarka Expressway crossing. AASHRAY is our affordable group housing Project with 766 units consisting of 1BHK, 2BHK, and 2BHK (plus Study)
apartments.
Our Attitude is to provide the most affordable houses fulfilling all the amenities required for a comfortable, convenient and happy living at most sought after location. AASHRAY is so designed for the comfort ofits residents, conveniently located in terms of availability of transport facilities and proximity to the main city, industrial area, upcoming commercial hub, Dwarka Expressway and National Highway.
Maxworth Affordable Housing Gurgaon Plan Scheme at Sector 89 Pataudi Road Gurgaon
HUDA Govt Affordable Housing Scheme Projects Gurgaon

License number – LC-2991A

A license issued on 22/11/2016.

Building Plans approved on 20/05/2017.

1 BHK, 2 BHK, Flats / High-rise Apartments

Developer Name- Maxworth infrastructure(p) Ltd

land area- 5.52 Acres
Specifications:
Flooring: Rooms: Ceramic Tiles, Kitchen: Ceramic Tiles, Toilet: Ceramic Tiles Balcony: Anti-

Skid Ceramic Tiles, Common Area: Terracotta Tiles/Pavers/Stone/IPS Flooring

Window Frame: MS Z-Section Frames as per IS Code

Door Frame: Flush Doors painted with Flat Enamel Paints/Painted Hard Wood Frame Door

Wall Tile: Bathroom: Ceramic Tiles up to 7 Feet in height. Kitchen: Ceramic Tiles up to 2 Feet




in height above counter

Kitchen Counter: Top: Terrazzo/Marble

Wall Finish: Plaster with Oil Bond Distemper

Toilets: PPR Pipes or equivalent. Chinaware & CP Fittings (ISI Marked)

Electric Fittings ISI Marked & required electrical points




MS Railing in Staircase and Balcony

Structure: RCC Frames structure designed for SESMIC forces as per latest IS code and




NBC guidelines
Amenities:
Gated secured complex

Community Hall

Creche

Kids Play area

Convenient shopping

Business centre

Wifi facility

2 wheeler parking

Visitor's Car parking

Power Backup For common facilities
Location Advantages
Strategically located in sector 89 on Dwarka Expressway, New Gurgaon

In close proximity to Pataudi Road, IMT Manesar, NH-8, KMP Corridor & Dwarka Expressway

Close to industrial units like Alcatel-Lucent, Honda, Hero Moto Corp, Samsung, Maruti, Mitsubishi Electricals, HCL, Triumph Motorcycles etc

Educational Institutions like SGT group of Institutes, Sharda international school, Colonel's public school, Kamla Hospital are within close proximity.

Approx 20 min drive from IGI Airport thru Dwarka Expressway

Adjacent to New Gurgaon.

Close to Kadipur Industrial area

Approx 12 km's from AIIMS National Cancer Institute, Badsha, Jhajjar

9 km from Sultanpur National Park

Close proximity to huge commercial belt

Surrounded by multiple residential group housing & township of a renowned developer like Ashiana, Vatika, Assotech, ATS etc.

It is very close to existing ICD(Inland Container Depots/Dryports)

Recreational area like Sultanpur Bird Sanctuary within the proximity.
Price List :
S.No.

TYPE

CARPET AREA in Sqft

BALCONY AREA IN Sqft

TOTAL COST APARTMENT

5% BOOKING

20% ON ALLOTMENT

1

2 + 1 BHK

644.76 sq.ft.

100 sq.ft.

2,629,040

131452

525808

2

2 BHK

593.10 sq.ft.

100 sq.ft.

2,422,400

121120

484480

3

2 BHK

559.62 sq.ft.

100 sq.ft.

2,288,480

114424

457696

4

2 BHK

400.63 sq.ft.

100 sq.ft.

1,652,520

82626

330504

5

1 BHK

418.93sq.ft.

100 sq.ft.

1,725,720

86286

345144

6

1 BHK

517.74 sq.ft.

94.94 sq.ft.

2,118,430

105921.5

423686

7

1 BHK

397.18 sq.ft.

100 sq.ft.

1,638,720

81936

327744

8

1 BHK

403.11 sq.ft.

100 sq.ft.

1,662,440

83122

332488

9

2BHK

595.36 sq.ft.

100 sq.ft.

2,431,440

121572

486288

10

2BHK

528.19 sq.ft.

60.39 sq.ft.

2,142,955

107147.8

428591

100 sq.ft.

2,162,760

108138

432552

11

2BHK

492.24 sq.ft.

38.43 sq.ft.

1,988,175

99408.75

397635

12

2BHK

589.65 sq.ft.

100 sq.ft.

2,408,600

120430

481720

13

2BHK

553.48 sq.ft.

70.50 sq.ft.

2,249,170

112458.5

449834

100 sq.ft.

2,263,920

113196

452784

14

2BHK

403.65 sq.ft.

67.17 sq.ft.

1,648,185

82409.25

329637

15

1 BHK

592.77 sq.ft.

100 sq.ft.

2,421,080

121054

484216

16

2BHK

406.23 sq.ft.

79.98 sq.ft.

1,664,910

83245.5

332982

17

1 BHK

445.63 sq.ft.

98.71 sq.ft.

1,831,875

91593.75

366375

18

1 BHK

510.75 sq.ft.

100 sq.ft.

2,093,000

104650

418600

19

2BHK

574.79 sq.ft.

92.03 sq.ft.

2,345,175

117258.8

469035

20

2BHK

605.79 sq.ft.

100 sq.ft.

2,473,160

123658

494632

21

2BHK

627.11 sq.ft.

77.82 sq.ft.

2,547,350

127367.5

509470

22

2BHK

609.78 sq.ft.

100 sq.ft.

2,489,120

124456

497824
Payment Plan :
| | |
| --- | --- |
| Time of Payment | Percentage of the Total Price Payable |
| At the time of submission of the Application for allotment | 5% of the Total Price |
| Within fifteen days of the date of issuance of Allotment Letter | 20% of the Total Price |
| Within six month from the date of issuance of Allotment Letter | 12.5% of the Total Price |
| Within twelve month from the date of issuance of Allotment Letter | 12.5% of the Total Price |
| Within eighteen month from the date of issuance of Allotment Letter | 12.5% of the Total Price |
| Within twenty four month from the date of issuance of Allotment Letter | 12.5% of the Total Price |
| Within thirty month from the date of issuance of Allotment Letter | 12.5% of the Total Price |
| Within thirty-six month from the date of issuance of Allotment Letter | 12.5% of the Total Price |
Floor Plan :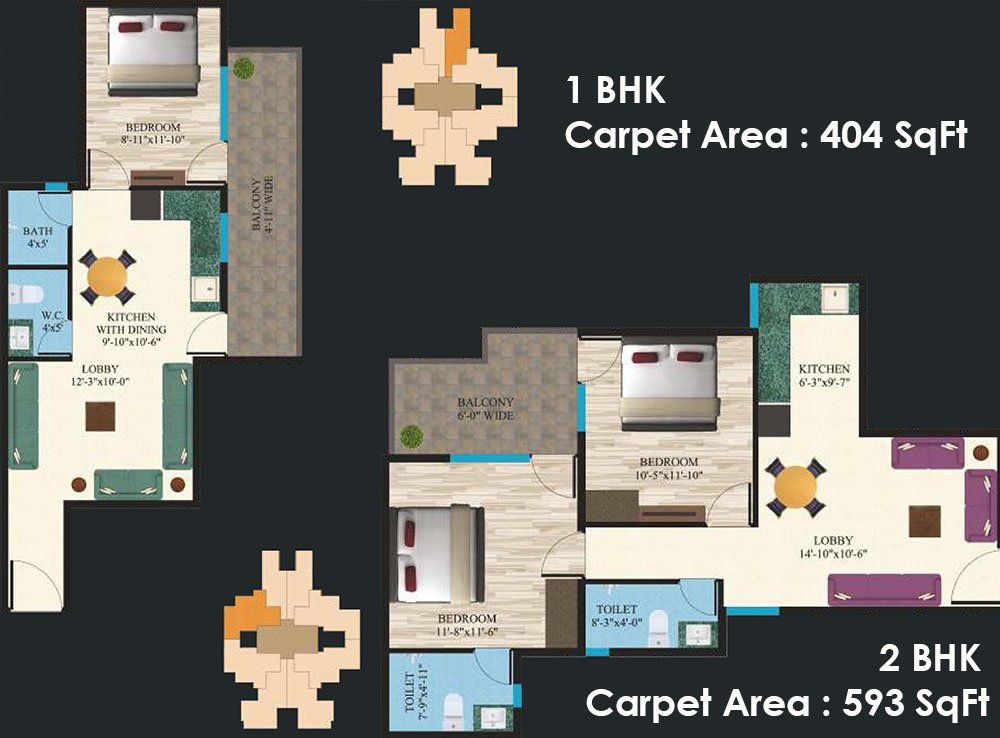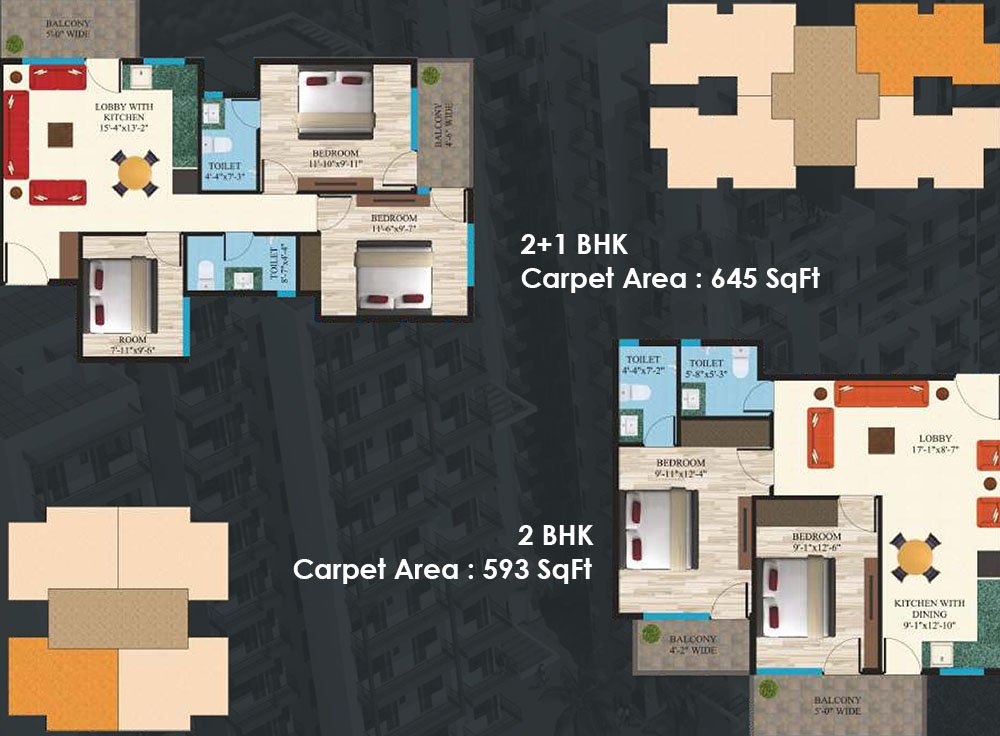 Site Plan: