By December, 50,000 Affordable Homes may be on Offer in NCR

NCR's affordable realty market seems to be making an impressive rebound, despite the general gloom triggered by the pandemic. This inference can be drawn from the latest projections by real estate consultants Anarock and other industry experts that around 50,000 affordable homes, including 16,000 in Gurugram, would be up for grabs by this year end.
Currently, some 1.8 lakh affordable homes (below Rs 40 lakh) are at various stages of construction in NCR. In Haryana, some 110 affordable housing licences have been issued by the department of town and country planning (DTCP) since 2014, with the major share in Gurgaon and Sohna. Though around 80,000 units have been sold, only 22,000 have been delivered to date.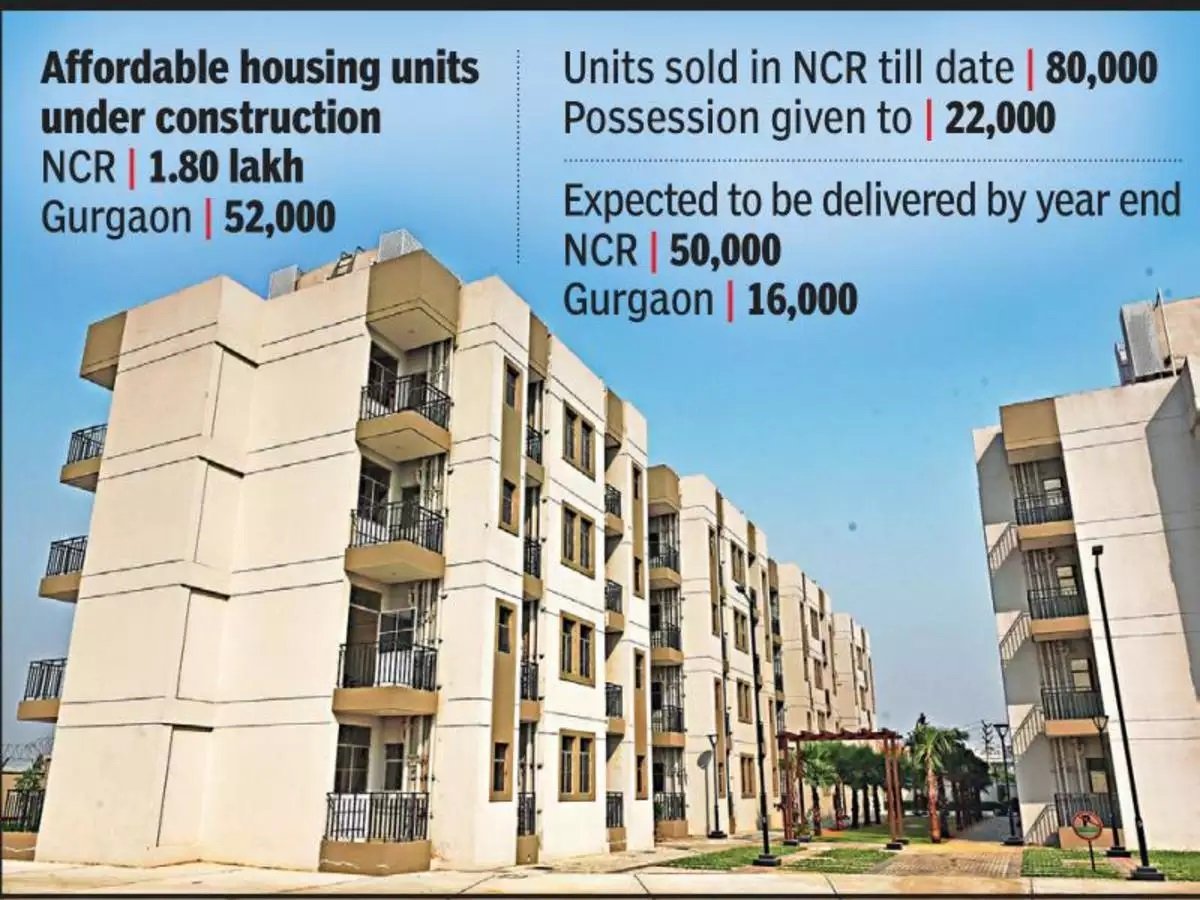 Industry experts say with markets opening up and business returning to normal, the residential real estate market seems to be coming back on track.
Anuj Puri, chairman of Anarock, said that in NCR, a total of 1.16 residential real estate units are scheduled for completion in 2021. "Of these, at least 43% are in the affordable segment, 39% in the mid-segment, 13% in the premium segment and 5% in the luxury segment," he said.
Pradeep Aggarwal, chairman of the Signature Global Group, agreed. "Fast-paced growth in places like MG Road and Cyber City generated a ripple effect that pushed development to new areas such as New Gurgaon, Southern Peripheral Road (SPR) and Sohna. The state government's increased focus on affordable housing is assisting in the growth of these neighbourhoods, where over 40% of units cost less than Rs 50 lakh."
Surinder Singh, director of the GLS Group, said that so far only 22,000 affordable housing units have been delivered though around 80,000 units were sold in the past seven years. "We estimate around 50,000 units are going to be delivered by the end of 2021," he said.
Vikas Garg, deputy managing director of MRG World, said that many people felt that challenges related to income generation during the second wave of Covid-19 will damage the housing market, causing consumers to postpone home purchases. "However, the affordable and middle-income housing segments are witnessing a significant movement," he said.
District town planner RS Batth, on his part, said that the department is strictly monitoring the progress of affordable housing projects. "Around 10 developers have been served showcause notices for delay in completion of 12 such projects in Gurgaon."
Source : TOI